""Olympic Games"" – Google News
05:55
WHAT IS THE PROBLEM?
In three years, the world's greatest athletes will meet for the next Summer Olympics in Paris.
And – provided everything goes back to normal after Tokyo's pandemic games – millions of fans will also come to the French capital.
Between travel and construction, food and fuel, shelter and rubbish, the Olympics aren't exactly an environmentally friendly endeavor. So what can you do to make it as sustainable as possible?
Georgina Grenon, Director of Sustainability for Paris 2024 joins Stephen Cole to outline her plans to make Paris the first climate-positive Olympics.

MEET THE EXPERT
As an expert in renewable energy and clean technology innovation, Georgina Grenon began her career in business development at YPF SA, the national oil company in Argentina.
She later joined the Energy and Climate Directorate-General of the French Ministry of Ecology and Energy, where she spent six years helping to develop renewable energy policies and markets. She also represented France at the International Energy Agency and promoted international cooperation in the creation of markets, innovation and the use of clean technologies. She then moved to ENGIE Group and became director of the New Business Factory at ENGIE Fab.
In August 2018, Grenon joined the Organizing Committee of the 2024 Olympic and Paralympic Games in Paris as Director of Sustainability.

WHAT DOES GRENON SAY?
Sustainability is at the heart of plans for the next Summer Olympics, says Grenon: "It starts with the application process, you know, with the design of the games themselves. So we set our ambitions for the climate … we we have 100 percent renewable electricity for all of our needs. We have sustainable construction, sustainable food. In everything we do, we focus on sustainability. "
And those ambitions are huge: "We're not going to be carbon neutral or carbon neutral. We're going to go beyond that. We're going to be climate positive. We're aiming for less than half of the emissions than in previous games, which is massive." , as you can imagine. We're committed and have the means to deliver climate-friendly games, which the IOC is demanding from other countries in other cities from 2030 onwards. That puts us six years ahead. "
And how is that supposed to be achieved? Says Grenon, "We have a zero waste to landfill plan – so work on reducing waste and actually reducing it [considering] what we should do with it after we have used up our resources and then worked on new operational solutions to reduce and hopefully avoid that single-use plastic bottles would have drinks in our venues in 2024. "
And the Games will look very closely at what comes out of COP26 in one very specific aspect – developments on what is known as Article Six. "This is the one," says Grenon, "that should define the specifics of voluntary international cooperation in the markets for CO2 emissions. Since all of our climate protection measures are 100 percent voluntary, we are counting on these rules of the game, you know, firmly defined. "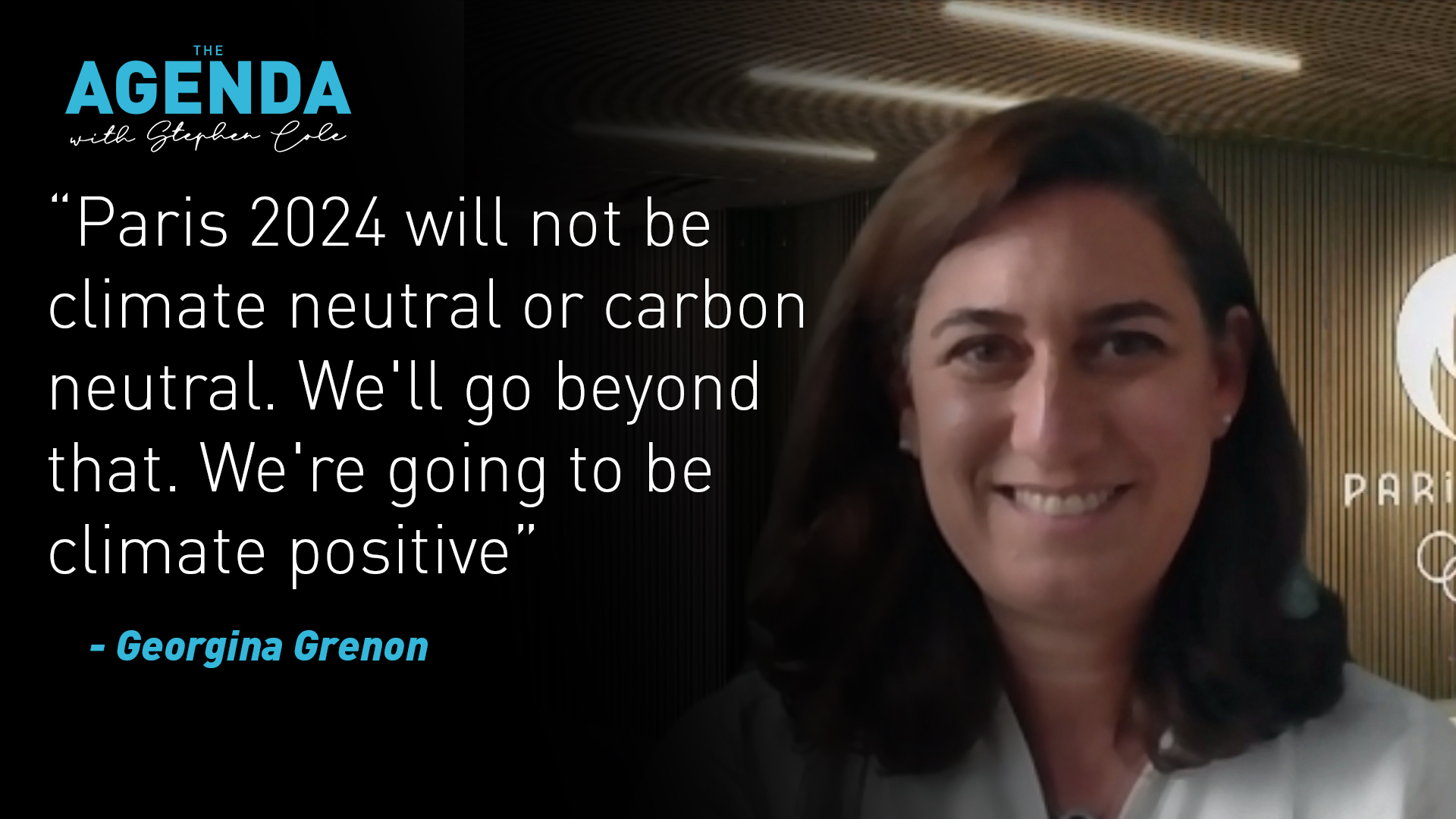 – Matthias Berninger, Senior Vice President Public Affairs, Science and Sustainability at Bayer International, joins Stephen to explain how the company rose from the world's largest polluter to the top 250 in just over a decade.
– Carrie Harris, Head of Sustainability at British Airways The Agenda tells how her company – the first airline to report its CO2 emissions back in 1992 – is paving the way for greener travel.
– Allan Xie An, Head of Deloitte China's Climate and Sustainability Service explains how the post of Chief Sustainability Officer is becoming a must for companies around the world.

FIND MORE STORIES OF THE AGENDA WITH STEPHEN COLE HERE