""Mattress Reviews"" – Google News
Pregnant women deal with many sleep changes and issues, as well as general aches and pains. The right mattress can really help you reduce pain and get high-quality sleep during pregnancy, so it's important to choose the right replacement for your old mattress.
Below, I've detailed my top pregnancy mattress picks. I considered things like spinal alignment, cooling technology, durability, and more when choosing these beds. Read on below to learn more about these mattresses, or skip to the bottom to check out a handy summary chart.
Best Mattresses for Pregnancy – My Top Picks!
How I Chose These Beds
Read on below to learn more about how I chose each of these beds. And take a look at my Buyer's Guide to learn more about which types of mattresses might be best for pregnant women.
Editor's Pick
saatva mattress
Saatva
The Saatva classic is a luxury innerspring mattress that won't break the bank. Softer top foams and pocketed coils make for a supportive, springy feel that could be especially nice for pregnant women who need some extra back support.
If you're in need of some additional pressure relief (like many pregnant women are) I'd recommend the Soft model of this mattress, which comes in Soft, Luxury Firm, and Firm models. Another great perk of this bed is that it sleeps cool, which is good news for pregnant women dealing with hot flashes or night sweats.
This bed comes with a 180-night sleep trial and 15-year warranty. You can learn more about it in my Saatva mattress review.
$200 off $1,000 Purchase!
Saatva

The Saatva mattress combines a luxurious pillow-top layer with two sections of coils for that classic innerspring feel. 
Best for Pain Relief
The Helix Midnight.
Helix Midnight
The Helix Midnight is a memory foam hybrid mattress that's a great pick for pregnant women struggling with aches and pains. This bed does a great job combining strong support with cushioning pressure relief, which makes it a great option for soothing back and joint pain.
The Midnight's top layers feature body-contouring memory foam that should relieve tension around the shoulders and hips, making it a great choice for side sleepers. This is great for pregnant women because health care professionals recommend avoiding sleeping flat on your back after week 20 of pregnancy. The Midnight's pocketed coils also offer plenty of lumbar support to relieve back pain. If you're looking for extra back support (and a pillow top layer) you can also check out the Luxe model of this mattress.
The Midnight comes with a 10-year warranty and 100-night sleep trial. Learn more about this hybrid in my Helix Midnight mattress review.
Up to $200 Off + Free Pillows
Helix Midnight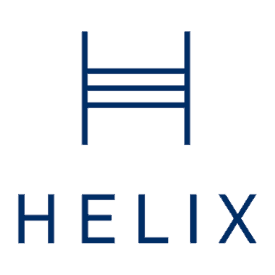 Whether you choose the standard or luxe edition, Helix mattresses have something to offer every style of sleeper! 
Best for Pressure Relief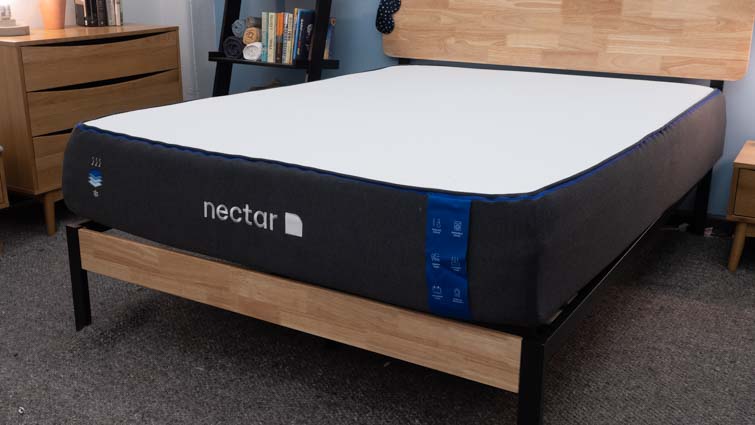 The Nectar mattress.
Nectar
The original Nectar mattress is a great option for pregnant women looking for plenty of  body-contouring and pressure relief. This memory foam mattress does a great job conforming to your body to really relieve tension and pain at the hips, shoulders, and lower back. 
The Nectar is a medium-firm mattress that I'd primarily recommend to side and back sleepers.  It also features great motion isolation, which means you're unlikely to be disturbed by a restless partner on this bed. This is great news for pregnant women who share a bed and struggle to sleep through the night.
The Nectar comes with a 365-night sleep trial and lifetime warranty. You can learn more about it in my full Nectar mattress review.
$399 in Free Gifts
Nectar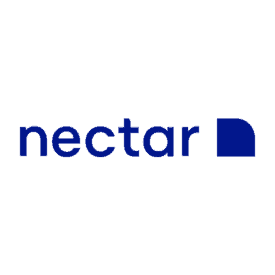 Sleepers will sink deep into the Nectar mattress for some soothing pressure relief, something that side sleepers will particularly appreciate! Use this link to check the current discount offer!
Best for Heavy People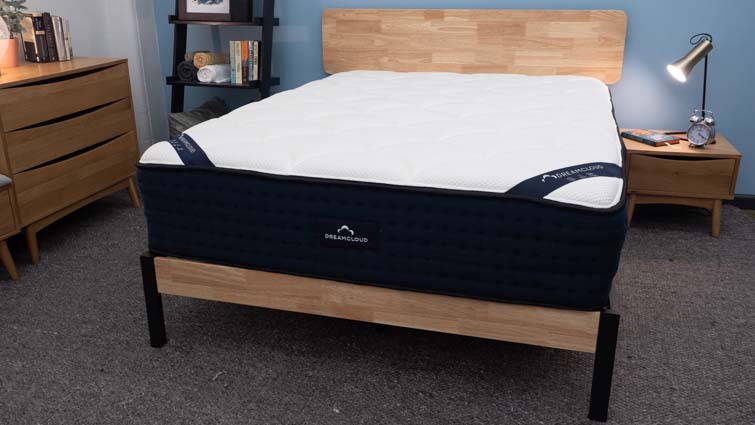 The DreamCloud mattress.
DreamCloud Premier
If you weigh more than 250 lb and are looking for a mattress that can support your weight during pregnancy, the DreamCloud Premier could be a great option. This sturdy mattress offers plenty of support for heavy people and couples, and will do a great job promoting a healthy sleep posture.
The DreamCloud Premier has a slightly firmer feel and also offers great edge support, which can make your bed feel larger and make it easier to get out of bed in the morning while pregnant. This bed also features great breathability, which is a nice perk for hot sleepers.
This bed comes with a lengthy 365-night trial and lifetime warranty. I'd highly recommend checking it out if you're looking for a firmer mattress or a bed that can support more weight. 
Learn more in my full DreamCloud Premier mattress review.
Save $200 + Free Gifts With Purchase!
DreamCloud Premier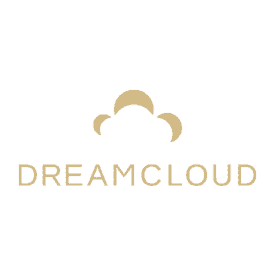 This tall hybrid mattress combines foams with pocketed coils for a luxuriously supportive sleeping experience.
Best For Couples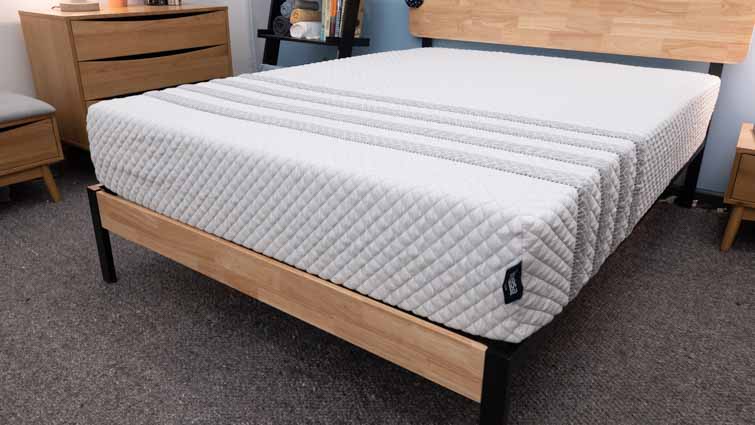 The Leesa Hybrid mattress.
Leesa Hybrid
The Leesa Hybrid is a great choice for expecting couples. It features great edge support, sleeps cool, and offers great motion isolation (which means you won't be disturbed by movement from the other side of your bed).
All these features are great for couples, and they're especially good for pregnant women too! Firm edge support can help a bed feel larger, and make it feel more supportive under your changing body weight. Many pregnant women already sleep hot, and are likely to get even hotter and wake up more often when sharing a bed, so a cooling mattress is key. And if you're struggling with insomnia during pregnancy, you might be waking up your partner with your tossing and turning (and vice versa). The Leesa Hybrid solves all these issues!
This bed also has a soft-yet-supportive feel that might be especially nice for pregnant back and side sleepers. It comes with a 10-year warranty and 100-night sleep trial. Learn more about this Leesa in my full Leesa Hybrid mattress review.
20% off with code Sleepopolis20
Leesa Hybrid

Thick layers of foam and pocketed coils come together to offer sleepers the perfect hotel-bed feel. 
Best Flippable Mattress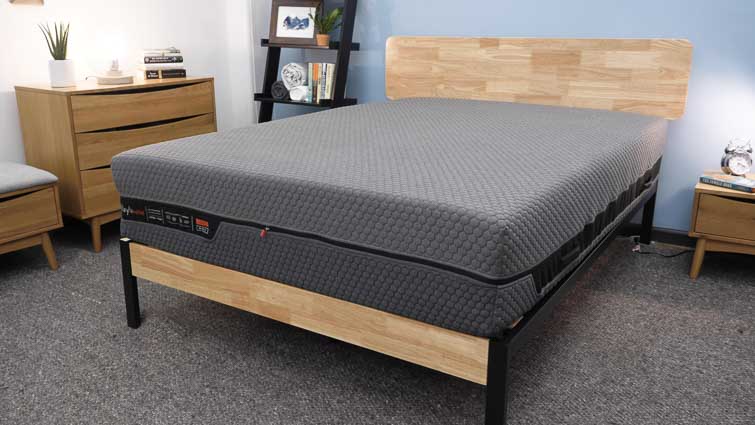 The Layla Hybrid mattress.
Layla Hybrid
The Layla Hybrid is a flippable memory foam mattress that could be a great choice for pregnant women! Many women report that their mattress firmness preferences change as their weight changes throughout their pregnancy. The Layla Hybrid features a soft and a firm side, which means it will be able accomodate your changing needs.
In addition to being flippable, this hybrid features plush memory foam layers that will contour to your body and relieve tension throughout the night. But its pocketed coil layer ensures this bed is still cooling and supportive. All in all, it's a great pick for pregnant women who want a mattress that will feel comfortable throughout their entire pregnancy.
This bed comes with a 10-year warranty and 120-night sleep trial. Learn more about it in my full Layla Hybrid mattress review.
Up to $200 Off Mattresses + Free Pillows
Layla Hybrid
This flippable mattress offers a great mix of support and pressure relief!
Best for Combination Sleepers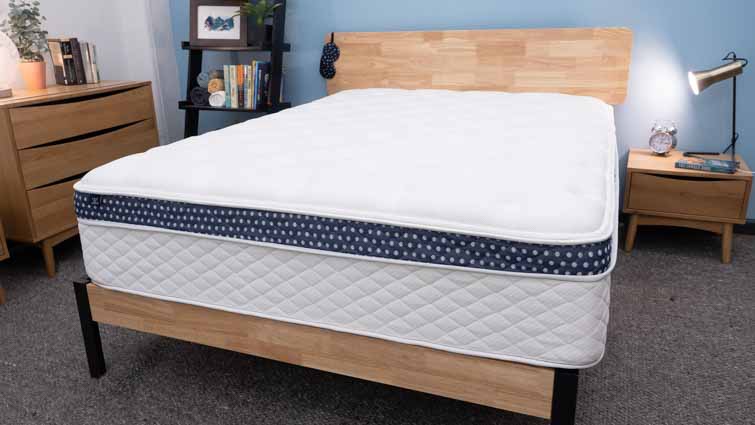 The WinkBeds mattress.
WinkBed
Pregnant combination sleepers (who like to sleep in more than one position throughout the night) might really like the original WinkBed. This hybrid mattress offers bouncy support and comes in three different firmness options.
All three WinkBeds are really easy to move around and change positions on, which is a nice bonus for pregnant combination sleepers who might find it harder to move around in bed over time. Personally, I'd recommend the Luxury Firm model to these sleepers.
The WinkBed also sleeps nice and cool thanks to airflow-promoting coils and a special Tencel cover. Tencel is an eco-friendly material that's known for being ultra-breathable. This bed comes with a 120-night sleep trial and lifetime warranty.
Interested in the WinkBed? Check out my full WinkBeds mattress review to learn more.
$300 Off
WinkBed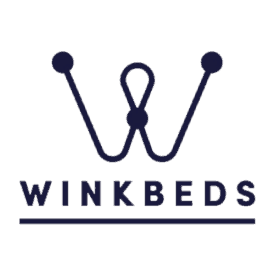 Built with a plush pillow top and a buoyant coil-on-coil structure, the WinkBeds is a great option for a wide range of sleepers! 
Best Cooling Mattress for Pregnancy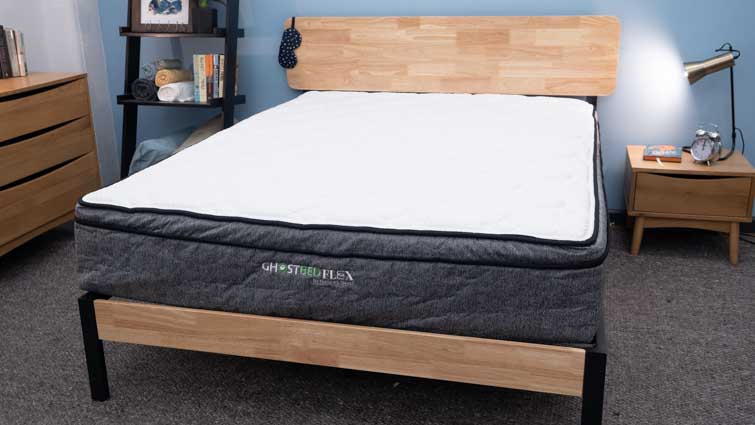 The GhostBed Flex.
GhostBed Flex
The GhostBed Flex is an awesome cooling option for pregnant women. All of GhostBed's mattresses are known for sleeping cool, but the Flex also incorporates some features that are especially great for pregnant folks!
The Flex includes a gel memory foam layer to offer some body-contouring and pressure relief, which is super important during pregnancy. But its latex alternative layer, coil layer, and cooling cover all ensure that you're not going to overheat on this mattress.
All in all, this medium-firm mattress is a great option for pregnant sleepers! This bed comes with a 101-night sleep trial and 25-year warranty. Learn more about it in my full GhostBed Flex mattress review.
25% Off + Free Pillows
GhostBed Flex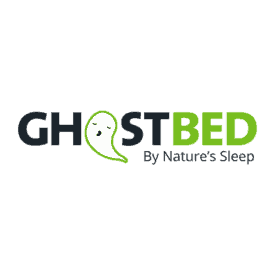 The GhostBed Flex uses a combination of soft memory foam and bouncy coils to provide nice pressure relief without the worry of feeling stuck in the mattress. The GhostBed Flex also uses great materials to help you sleep cool throughout the night. 
Best Value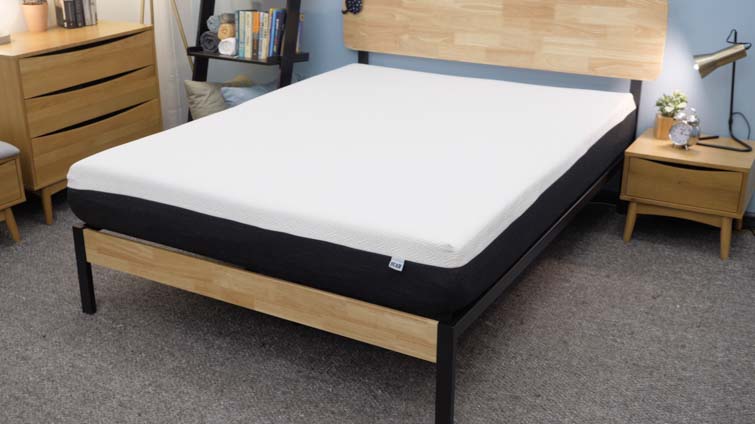 The Bear mattress in the Sleepopolis studio.
Bear
Rounding out my list is the original Bear mattress, which is an awesome budget buy for pregnant shoppers. This mattress is under $1,000, especially when it's on sale (which it often is).
The Bear is a firmer all-foam bed that should offer a great balance of pressure relief and support to back sleepers especially. It does a really nice job filling in the lumbar region for some tension relief at the lower back. This contouring feel could be especially nice for pregnant sleepers.
The Bear also sleeps cool for a foam mattress thanks to a special cooling cover and graphite-infused foams. All in all, it's a high-quality budget buy. This bed comes with a 100-night sleep trial and 10-year warranty.
Learn more about this bed in my full Bear mattress review.
20% Off + Free Gifts
Bear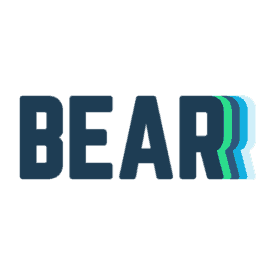 The Bear is an affordable foam bed that could help you feel comfortable during pregnancy!
Pregnancy and Sleep
Pregnancy can have a huge impact on your sleep, and many women experience a few common sleep changes during each trimester. Take a look at our Pregnancy and Sleep Guide for more in-depth info, or read on below for a brief overview of how pregnancy might affect your sleep.
In the first trimester, many pregnant women may experience exhaustion, frequent urination, nausea, and vomiting. All of these changes might impact your sleep, and a better mattress might help you deal with some of them (especially if you're struggling with waking up frequently).
During the second trimester, many women will experience back pain and other musculoskeletal aches and pains, especially around the pelvis. A mattress that helps soothe some muscle aches might be helpful for maintaining your sleep quality, especially if you're dealing with backaches.
Finally, many women in the third trimester experience anxiety and insomnia, both of which can make it quite hard to sleep. Often, insomnia is a result of frequent trips to the bathroom, general cramping and discomfort, and strange dreams. Issues like sleep apnea, heartburn, and hot flashes may also come up throughout your pregnancy. Once again, a bed that makes it easy to find a more comfortable position to fall asleep in could make it a little easier to get a good night's sleep despite these issues.
How to Choose A Mattress for Pregnancy
When choosing a mattress that can reduce pain and improve sleep during pregnancy, you'll want to consider a few different things. I've broken down some important buying considerations below to help you choose the best new mattress for your needs.
Mattress Type
Certain mattress types might work better for you than others, depending on your individual needs. Take a look at a few common mattress types below.
Hybrid Mattresses – Hybrid mattresses combine steel coils and foam layers to provide a mix of pressure relief and support. Their feel can vary widely depending on the top layers used, and they can be nice options for pregnant women because they'll be able to accommodate weight gain while still providing pressure relief.
Latex Mattresses – Latex mattresses are buoyant, durable, and cooling. If you don't like much body-contouring and are sleeping hot during your pregnancy, they could be great options for you. However, many pregnant women do prefer a mattress that offers some body-contouring.
Innerspring Mattresses – Innerspring mattresses offer firm, bouncy support. If you're struggling with lower back pain these beds could be good options. However, if you sleep on your side you might not find them pressure-relieving enough for your needs, especially as your body changes later in your pregnancy.
Memory Foam Mattresses – Memory foam mattresses offer deep sinkage, body-contouring, and cushioning. A high-quality memory foam mattress that offers deep compression support is often a great pick for pregnant women.
Adjustable Mattresses – Adjustable air mattresses (like the Sleep Number beds) are often great picks for pregnant women. These beds can accommodate your changing body type and sleep preferences, which can often make it easier to feel comfortable throughout your entire pregnancy. You can also pair them with adjustable bases, which may help with pain or discomfort.
Firmness
Firmness is also an important consideration when choosing a bed for pregnancy. Many women report that their mattress firmness preferences change as their body weight changes. As your body weight increases, you'll want a bed that's able to conform to new pressure points to prevent any joint pain. But, you'll also want a mattress that doesn't sag under your increased body weight.
In general, I'd recommend pregnant women opt for a medium-firm memory foam mattress that offers deep compression support, or hybrid mattresses with a medium-firm feel. An adjustable or flippable mattress that can offer multiple firmness options is also a great option during pregnancy. Of course, you should defer to your own firmness preferences when choosing a mattress. Take a look at my Mattress Firmness Guide to learn a little more about which firmness level might work best for your sleeping position and body type.
Pressure Relief / Body-Contouring
One of the key things to consider when choosing a mattress for pregnancy is pressure relief and body-contouring. You'll want a bed that's durable enough to support more weight, but conforming enough to really relieve tension around your hips, shoulders, and lower back (especially if you're a side sleeper, or are planning to side sleep later in your pregnancy).
In general, mattresses that are made entirely of memory foam or that include one or two memory foam layers in their top foams are the most pressure-relieving options. If you don't typically like the feel of memory foam but think you may like it during pregnancy, I'd suggest adding a memory foam mattress topper to a mattress you already like. This can be a good way to get some additional pressure relief during pregnancy without sacrificing your preferred feel after pregnancy.
Edge Support
Edge support is another key consideration for pregnant women. A mattress with strong edges can feel larger, which might be nice later in pregnancy (especially if you share your bed). Strong edges can also make it easier to get in and out of bed, which is another nice perk later in pregnancy. Many of our best mattresses for couples feature strong edges.
Cooling
Many women struggle with overheating at some point during their pregnancy. Finding a mattress that helps with temperature regulation can be helpful for a lot of women. In general, latex, hybrid, and innerspring mattresses are the most breathable options available.
If you're interested in a memory foam mattress because of its other benefits, but are worried it will trap body heat, I'd recommend opting for a cooling gel, graphite, or copper-infused memory foam mattress. You can also try an open-cell memory foam mattress, which allows more airflow. But if you sleep particularly hot, a hybrid mattress that includes memory foam comfort layers might be your best option. Check out our best cooling mattresses to see a few cooling options.
Motion Isolation
Motion transfer is a measure of how much movement travels from one side of your mattress to the other. If you're struggling with insomnia or sleep-related issues during your pregnancy and share a bed, a bed that features low motion transfer, or good motion isolation, could be important. It will help prevent your partner from disturbing you when they toss and turn (and help prevent you from disturbing them when you get up to use the restroom!). Take a look at some of our best memory foam mattresses to find a bed that features good motion isolation.
Mattress Warranty / Sleep Trial Period
Be sure to consider your mattress's warranty and sleep trial period before purchasing it. If you end up finding your new mattress uncomfortable, a lengthy sleep trial period can make it much easier to return. This is especially important for pregnant women, who might be trying out a new sleep position or experiencing rapid changes in their body type. Your preferences may be changing quickly, so it's important to have enough time to really decide if a bed will work for you.
A lengthy warranty is a great sign that you're getting a high-quality mattress. I'd recommend opting for a mattress that offers at least a 10-year warranty. This is a good sign you're buying from a reputable company that stands behind the quality of its product.
Off-gassing and Pregnancy
Off-gassing occurs when you unbox a bed-in-a-box mattress. The mattress will release gasses that were trapped during packaging, which can release a slight odor. Off-gassing is typically not harmful to pregnant women, but if you're concerned (or sensitive to odors), you might want to opt for a non-box mattress. You may also want to consider an organic or eco-friendly mattress, which typically won't release as many trapped gases. Take a look at our best natural organic mattresses to see some options.
If you are buying a bed-in-a-box mattress, be sure to have someone available to help you unbox and set it up. You might also want to consider purchasing white glove delivery, which many box mattress companies offer for an additional fee. Many luxury mattress companies will also offer free white glove delivery.
Sleep Accessories for Pregnant Women
In addition to mattresses, there are a few different sleep accessories that you might find useful during pregnancy. Take a look at the links below to learn more about them!
Other Tips for Sleeping While Pregnant
I'm focusing on mattresses for pregnancy in this article (since that's what you're here for!) but there are a few other things you can try to improve your sleep during pregnancy. Take a look below to find a few tips for sleeping during pregnancy.
Use extra pillows for support at night. One of our best pregnancy pillows could be a helpful sleep aid.
If you struggle to sleep through the night, try to limit daytime naps when possible. This could make it easier to stay asleep longer at night, which will make you feel more well-rested throughout the day.
Try yoga to improve sleep quality. Exercising three times a week for 12 weeks in the latter half of pregnancy can help with pain management, and yoga can often reduce anxiety.
Stop drinking water 2 hours before bedtime. This can reduce the number of times you need to wake up to use the restroom at night.
Stick to a sleep schedule if you can. Waking up and going to bed at the same time each day can help you sleep more soundly throughout the night.
If you struggle with nausea, opt for bland, high-carb, low-fat foods. They can help reduce nausea and vomiting issues. Consuming salty foods earlier in the day can also make it easier to digest them.
Sleep on your left side. Some doctors recommend sleeping on your left side (especially during later trimesters) to improve circulation and keep the fetus off your inferior vena cava. Obstructing the vena cava can sometimes lead to symptoms like racing heart, vomiting, weakness, and paleness. Side sleeping during pregnancy can also be better for blood flow and circulation because it keeps the fetus from obstructing blood flow to your feet and legs. That said, many women are able to sleep on their backs throughout their entire pregnancy, so don't worry if you don't feel comfortable on your side!
Recap
Subscribe Today!
Get the latest deals, discounts, reviews, and giveaways!
Madison is the Staff Writer at Sleepopolis. She reviews new mattresses every week to help readers decide which mattress is best for their needs. When she's not testing out a bed or trying to fit in at least nine hours of sleep you can find her exploring a new park, reading short stories, or checking out a local brewery.