""Mattress Reviews"" – Google News
Whether you're on the prowl for a latex mattress or just want to learn more about the material in general, the Best Latex Mattress 2021 page is for you! We'll dive into some of the unique characteristics of the classic bedding material, discuss some of our personal faves by category, and then wrap up with a few fabulous latex alternatives.
While all of these mattresses share a common material in latex foam, that doesn't mean they all feel the same. We've put all of these mattresses to the test and have some suggestions on why certain mattresses will work better for different types of sleepers and have categorized them below. This doesn't mean you shouldn't read up on a few other, but we think it's the best place to start.
But enough chat! Let's get our journey started.
Best Latex Mattresses of 2021
Now that we've gotten the nuts and bolts out of the way, let's take a look at some of our favorite latex foam mattresses by category. Feel free to navigate to the section that speaks to you most using the links below.
WHAT IS A LATEX MATTRESS?
Over the past decade or so, latex foam has become a material as synonymous with mattress design as traditional go-tos like memory foam and innerspring. In fact, latex kind of lands somewhere between these two, as its known for both its buoyant support and pressure-relieving softness.
To get a little more scientific, latex is considered a natural foam made from a milky substance derived from the hevea-brasilienis rubber tree, which is removed in a process similar to maple tapping. When transformed into a foam, this substance produces a proliferation of tiny air bubbles, giving latex its soft and bouncy texture.
There are two main types of latex manufactured using this process: Dunlop latex and Talalay latex. The former has a denser feel to it as it's formed in a single pour, while the latter has an aierier texture thanks to the fact that it's vacuumed halfway through production. Though both types of latex are comprised of organic components, only Dunlop latex is 100% all-natural.
Typically speaking, an organic latex mattress will be comprised of three to four distinct layers of latex over-laid by a cotton cover. The various latex layers will feature varying firmness levels, allowing for an interplay between pressure relief and support. While different brands will always put their unique spin on the classic latex mattress, almost all of them feature excellent bounce, terrific temperature regulation, and a gentle feel.
Editor's Pick
The Birch mattress.
Birch
It's essential for back sleepers to maintain healthy spinal alignment, and that's exactly what the Birch provides. It features a supportive hybrid build of Talalay latex and pocketed coils that lifts the sleepers' hips in alignment with their shoulders. By encouraging proper spinal support, the Birch could help protect back sleepers from aches and pains at the lumbar region. 
Along with its firm support, the Birch also offers natural elements in its construction. These include organic cotton, wool fibers, and all-natural Talalay latex, all of which make this a quality natural mattress. The Talalay latex provides great bounce, so sleepers are likely to feel more on top of the bed than "in" it. If you're a back (or stomach) sleeper looking for good support from a latex mattress, the Birch could be the one for you. 
Could the Birch be the mattress you're looking for? Find out in our full review.
$400 off + Free Pillows with code JULY400
Birch Mattress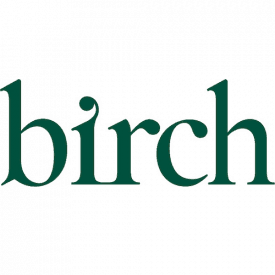 The Birch mattress uses natural materials like organic cotton and talalay latex to provide great comfort from an organic product, in fact all Birch products are Greenguard Gold certified!
Best Mattress for Kids
WinkBed EcoCloud
WinkBeds EcoCloud
The hybrid WinkBeds EcoCloud is a great latex mattress for kids. For starters, it's durable and shouldn't break down too quickly in the face of kids' rough-and-tumble use. Second, it offers good bounce, so kids won't feel like they're being swallowed up by the mattress. Third, the medium firm construction supports healthy spinal alignment, which is important for growing children. And finally, latex is a natural material, so you  won't have to worry about exposing your child to potentially harmful chemicals. 
Kiddy benefits aside, the EcoCloud features natural Talalay latex over coils, and it's all wrapped in an organic cotton cover. This hybrid construction creates a medium firm feel that offers a nice mix of support and pressure relief in multiple positions. Combined with the bed's bounce (which makes it easy to change positions), that balance should especially appeal to combo sleepers who switch positions during the night.
Curious about the EcoCloud? Learn more in our comprehensive review.
$300 Off & Free Sleep Bundle
WinkBeds EcoCloud Mattress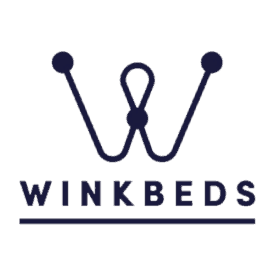 The WinkBeds EcoCloud mattress uses a combination of latex foams and pocketed coils for a bouncy mattress made with natural materials. Just enter your email to save
Best for Stomach Sleepers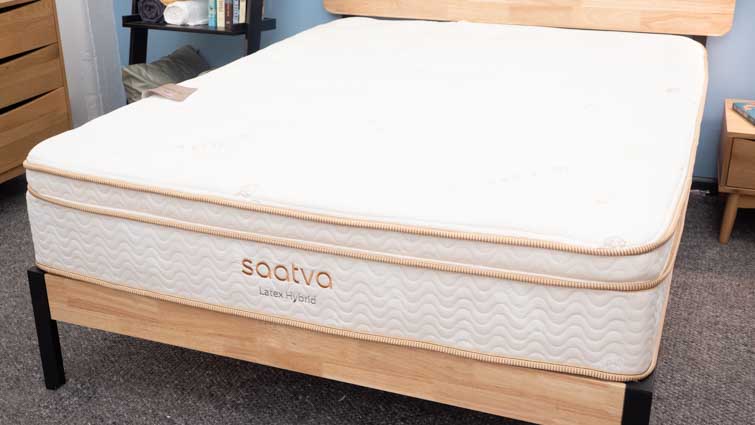 The Saatva Latex Hybrid mattress.
Saatva Latex Hybrid
The Saatva Latex Hybrid is a mattress I recommend for sleepers who stay strictly on their backs or stomachs throughout the night or even some combination sleepers who spend minimal time on their sides. If you are a side sleeper, this mattress likely will not give you the contouring you need in the hips and shoulders since it is on the firmer side (approx a 7.5/10 on the firmness scale). 
This mattress combines high-quality organic and eco-friendly materials to create a luxury sleeping surface that provides excellent pressure relief. One additional thing to consider is if you sleep with a partner who tosses and turns a lot at night, or a very active pet, this mattress is very bouncy and I found you feel a lot of movement on it.
Ready to check out this latex model from Saatva? Read my full Saatva Latex Hybrid review for more info! 
$200 off $1,000 Purchase!
Saatva Latex Hybrid

The Saatva Latex Hybrid uses a durable build of quality materials to provide great support. 
Best Latex Foam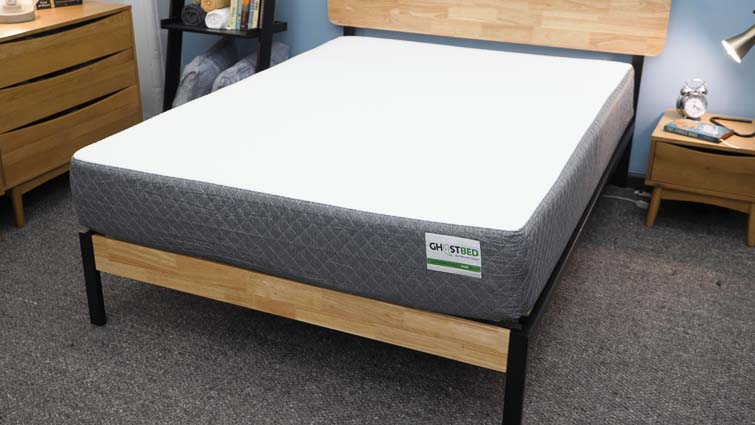 The GhostBed mattress.
GhostBed
The Original Ghostbed is one of the few foam beds that includes a layer of latex foam in its construction, giving it a unique feel and making it extremely cool for an all-foam mattress. This mattress is a great value for those who maybe aren't sure about the feel of sleeping on latex yet, or those who love the sink of memory foam but need a little more bounce. 
I like this bed, especially for back sleepers. Since it comes in around a 7 out of 10 on the firmness scale, it is firm enough to support the lower back and keep the spine aligned. Combination sleepers should also enjoy the bouncy yet pressure-relieving feel of this mattress.
Wanna know more about this spooky mattress? Read my full GhostBed mattress review.
4th of July Sale! 30% Off Mattresses + 2 Free Luxury Pillows
Ghostbed Mattress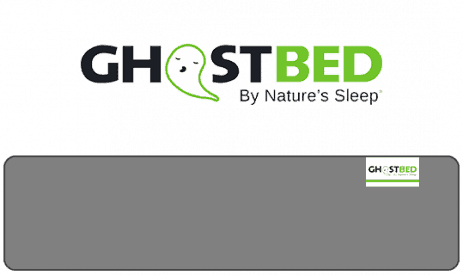 Sleeps cool
Medium firmness
Good value
Best Mattress for Back Pain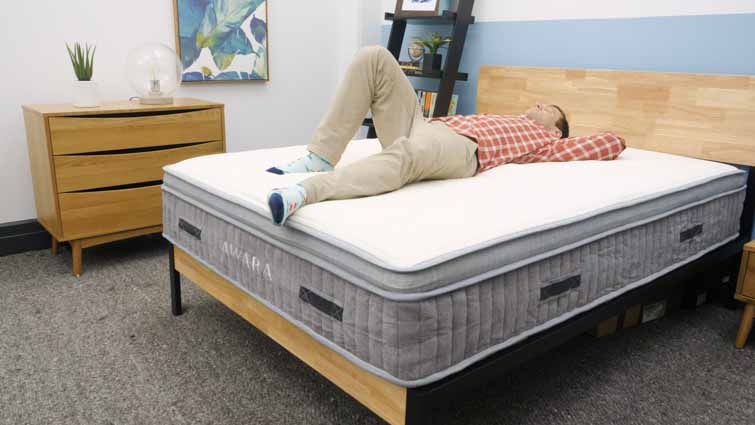 Awara Mattress Back
Awara
At this point, it might not come as a surprise to learn that the Awara is yet another bed-in-a-box latex hybrid. But while it shares that in common with other models on this list, it also distinguishes itself in several ways. For starters, it uses 4" of Dunlop latex to create a bit of a PillowTop feel over supportive pocketed coils. It also provides plenty of firm support, which could be good news for the back and stomach sleepers of the world — especially those trying to avoid back pain. The Awara also stands out for offering decent quality at a value price relative to other latex options. 
Thanks to its firm support, the Awara should do a great job of keeping the spine in healthy alignment. That's partly because it helps sleepers (and their hips!) stay on top of the mattress, instead of letting them sink too deeply into the structure. Because it works to help keep the spine in alignment, this mattress could provide the support needed to avoid back pain. It also provides the bounce and natural materials that are characteristic of latex mattresses.
Awara-you interested in the Awara? Then learn more about this mattress here.
$300 Off + $499 of Free Accessories
Awara Mattress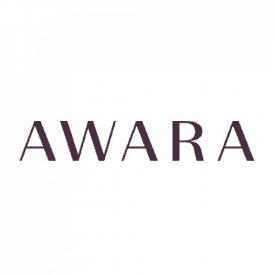 The Awara is a great latex hybrid mattress providing firm support and the added bonus of organic materials. 
Best Organic Mattress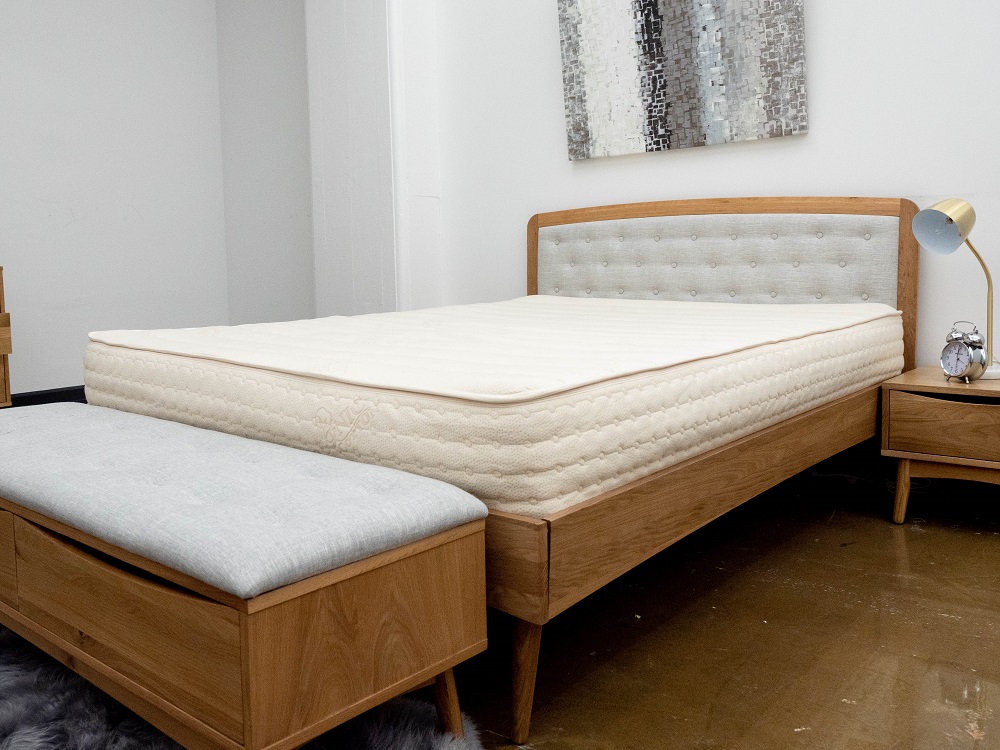 PlushBeds Corner
Plushbeds Botanical Bliss
One of the main advantages of latex mattresses is that latex is a natural material. The PlushBeds Botanical Bliss mattress takes things up another notch by pairing this natural product with an organic cotton and wool cover, which lets you pretty much avoid the use of potentially harmful chemicals in your mattress. All different types of sleepers can find comfort from this organic mattress. 
What makes the Botanical Bliss so versatile? Its construction features an all-latex core that's separated into three layers, which can be stacked on top of each other in different arrangements to suit sleepers' personal firmness preferences. This means the mattress should be able to accommodate a wide range of sleep styles. It also features all the cooling and bounce properties we've come to expect from latex, meaning it's incredibly easy to move around the mattress. 
Want to bliss out on the Botanical Bliss? Read up on everything you need to know about this mattress.
$1,200 off Mattresses + Free Sheets!
Plushbeds Botanical Bliss Mattress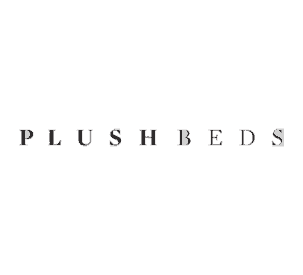 Eco-friendly sleepers can enjoy the buoyant support of all-natural latex inside this totally organic mattress! 
Best Cooling Latex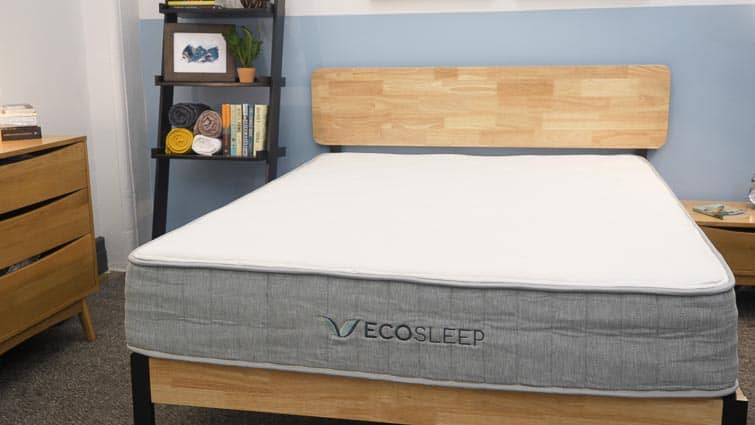 EcoSleep Room
EcoSleep
One of the characteristics that make latex mattresses so desirable is that they are naturally cooling so they keep even the warmest sleepers cool at night. The EcoSleep by Brooklyn Bedding takes the cooling powers of latex to the next level with a layer of coils that allows airflow and makes the mattress very breathable. The EcoSleep is a flippable mattress with a medium-firm and firm side so you can choose what side of the mattress you use based on your sleeping position and preferences. 
This is a good mattress for couples, due to both the cooling features and the fact that the pocketed coil layer isolates movements from one side of the bed to another. I also like this mattress for combination sleepers because latex is naturally very bouncy and easy to move around on and the EcoSleep's coils also give you a boost to move around on the bed. 
Check out my full EcoSleep mattress review to learn more about this cooling mattress!
Save 20% with code SLEEPOPOLIS20
EcoSleep Mattress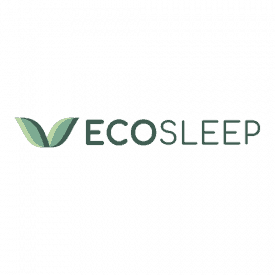 The EcoSleep is a great latex hybrid mattress that uses natural materials and pocketed coils to provide a supportive and bouncy feel. 
Best Firm Mattress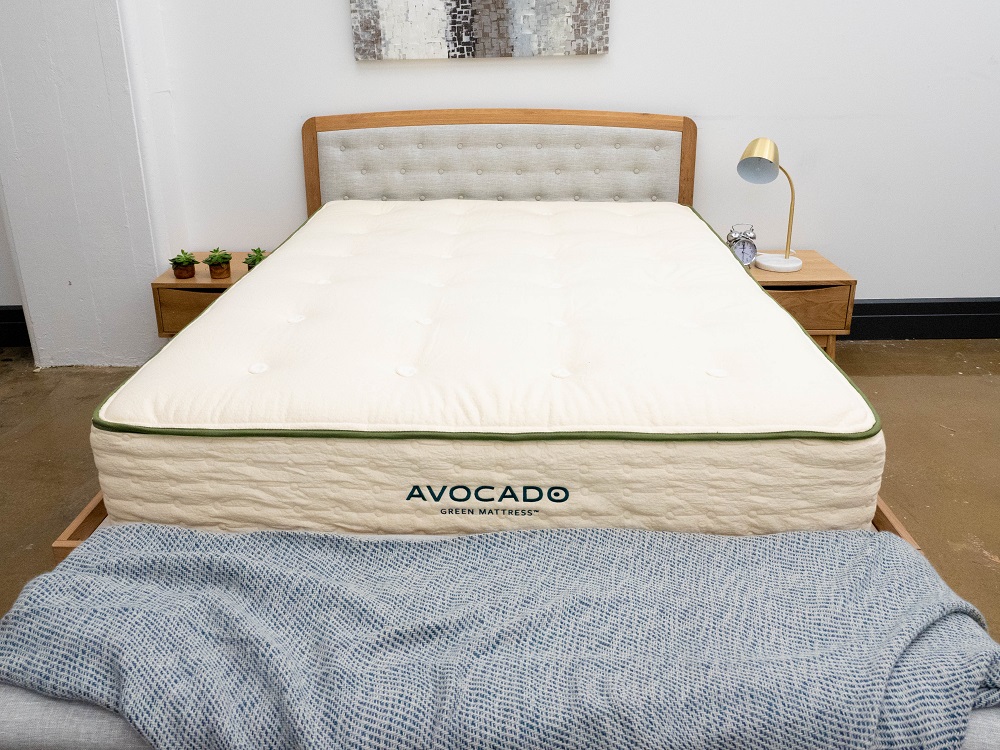 The Avocado mattress.
Avocado
The Avocado is another bed-in-a-box latex hybrid — only instead of using Talalay latex, it utilizes Dunlop latex, a slightly denser form of the material. The Avocado is also distinguished from other options on this list thanks to its extra firm support. The pocketed coils underneath the latex should keep sleepers' hips elevated and help maintain healthy spinal alignment for back or stomach sleepers. The Avocado also offers exceptional durability, as demonstrated by its 25-year warranty. 
While the Avocado differs from other options on this list in a few ways, it also shares some similarities with other mattresses featured here. It uses an organic cotton cover, which means it's made primarily from natural materials. It also offers great bounce and mobility, so you shouldn't feel stuck in this mattress. And if you like some of the Avocado's features, but want a softer mattress, you could always go with the brand's PillowTop version. 
Avid about the Avocado? Read more in our full review.
Save $100 with Code SUMMEROFAVO
Avocado Mattress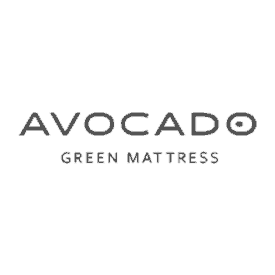 Composed of 100% natural latex and pocketed coils, the Avocado is as eco-conscious as it is comfortable.
Best Hybrid Latex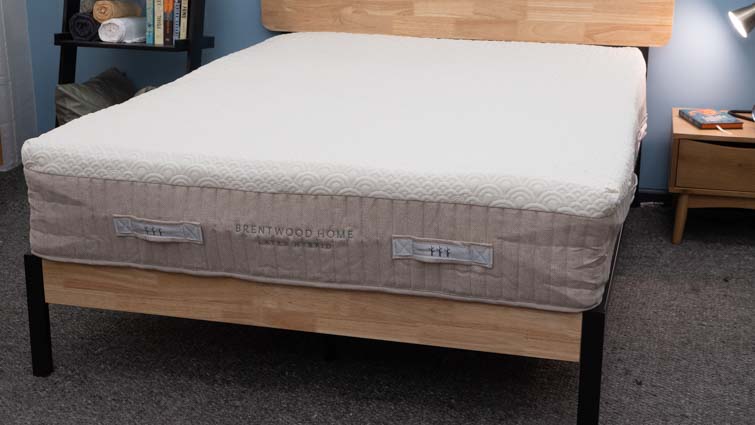 Brentwood Hybrid Latex Mattress
Brentwood Home Hybrid Latex
Most of the latex mattresses on the market today are, in fact, hybrid models. As the name of this mattress would suggest, it is one the best hybrid latex models available with pocketed coils and a latex layer it balances support and comfort perfectly. I love this mattress for back and side sleepers and even some combination sleepers since it is so easy to move around on. 
Latex is a naturally cooling material, but the coil base of this mattress allows for even more airflow so if you are looking for a mattress to cool you down and keep you cool, this is a great option. Excelling in isolating movements from the other side of the bed, this is also an excellent choice for couples who are looking for a natural mattress.
Ready to learn more about this great hybrid mattress? Check out my full Brentwood Home Hybrid Latex review. 
Best Mattress for Side Sleepers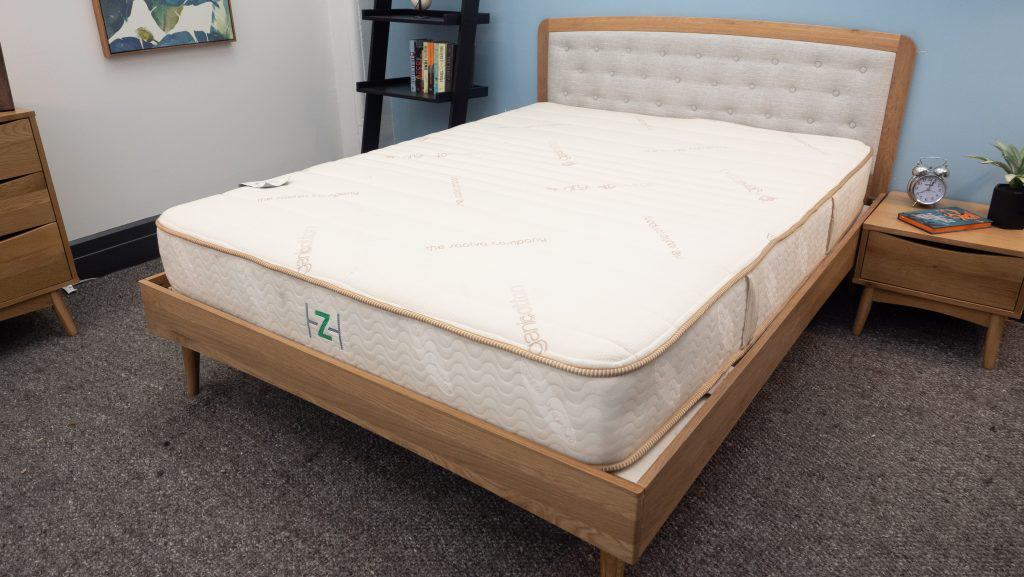 The Zenhaven mattress.
Zenhaven
While many of the mattresses on this list feature a hybrid construction of latex and coils, the Zenhaven stands out for using a full latex core sans springs. Its construction features only a few materials; namely, Talalay latex, cotton, and wool. Together, these all-natural materials offer a great mix of comfort and support. The Zenhaven is also a flippable mattress, with a soft and firm side.
Side sleepers might be drawn to the softer side, which I ranked around a 6 out of 10 on the firmness scale. (The industry standard for medium firmness is 6.5, so that's just a touch softer than medium firm.) This side should offer great pressure relief that helps prevent side sleepers from feeling jammed up around the shoulder or hip. At the same time, the full-latex construction offers great bounce and mobility, so sleepers are unlikely to feel stuck. If you want a well-built latex mattress that uses quality materials and is great for side sleepers, consider the softer side of the Zenhaven.
Will the Zenhaven help you zen out on the way to dreamland? Find out in our comprehensive review.
Take $200 off Your Purchase of $1000 or More!
Zenhaven Mattress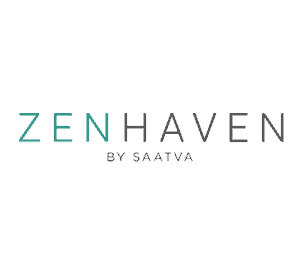 The Zenhaven is a flippable latex mattress that offers two firmness options, great for sleepers of all styles! 
FAQs
What are the benefits of a latex mattress?
Latex mattresses offer several benefits. Latex is a natural material, so it appeals to folks who are looking for an organic bed free of chemicals. It also creates mattresses with great bounce and durability, and it does a decent job of dissipating body heat.
Is latex better than memory foam?
Latex isn't necessarily better than memory foam; the "best" material for a mattress is a matter of personal preference. That said, each material offers its own advantages. For example, memory foam is known for offering plenty of body-contouring and pressure relief. Meanwhile, latex tends to offer more bounce, mobility, and durability than foams, and it also tends to sleep cooler.
Do latex mattresses sag?
Eventually, all mattresses will need to be replaced due to sagging or other wear and tear. But in general, latex does prove more durable than foam mattresses. This is reflected in the fact that latex mattresses tend to offer longer warranties than their foam counterparts.
Recap: The Best Latex Mattresses
| Mattress | Best For | Price (Queen) | Coupon | Review |
| --- | --- | --- | --- | --- |
| Birch | Editor's Pick | $1,699 | Check Coupons Page | Read Our Review! |
| Saatva Latex Hybrid | Stomach Sleepers | $1,849 | Saatva Coupon | Read Our Review! |
| GhostBed | Latex Foam | $1,140 | GhostBed Coupon | Read Our Review! |
| WinkBeds EcoCloud | Kids | $1,799 | WinkBed Coupon | Read Our Review! |
| Awara | Back Pain | $1,499 | Check Coupons Page | Read Our Review! |
| Plushbeds Botanical Bliss | Organic | $2,799 | PlushBeds Coupon | Read Our Review! |
| Brooklyn Bedding EcoSleep | Cooling | $1,249 | Brooklyn Bedding Coupon | Read Our Review! |
| Avocado | Firm | $1,399 | Avocado Coupon | Read Our Review! |
| Brentwood Home Hybrid Latex | Hybrid Latex | $1,199 | Coupons | Read Our Review! |
| Zenhaven | Side Sleepers | $2,474 | Zenhaven Coupon | Read Our Review! |
Subscribe Today!
Get the latest deals, discounts, reviews, and giveaways!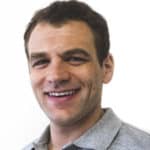 Logan is the content director of Sleepopolis, which means he not only reviews new mattresses every week, but also curates all the comparisons, best of pages, and video guides on the site. He takes a straightforward, honest approach to his reviews and endeavors to give viewers an objective look at each new product he tries out. Logan has perfected his method by personally testing over 200 different mattresses, so he's not only able to discern the overall vibe of a specific bed, but to contextualize its feel within the bed-in-a-box market as a whole. When he's not hopping on a new bed or working with our editorial team to whip up an engaging sleep education guide, you can find him reading books on world history, walking his dog Pepper, or searching for the best cheeseburger in New York City.